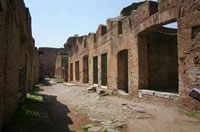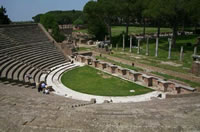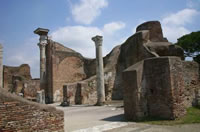 8 hours duration with departure and return to the hotel
Ancient port of Rome founded around the fourth century BC, soon became the largest seaport of antiquity, was the satellite city of Rome and reached a population of nearly 100,000 inhabitants. Of great interest to the historical, for its extension, needs a full day for a thorough visit.
The city of republican plant, divided into two main roads on which you can admire the ancient necropolis, the baths of Neptune, built by Emperor Hadrian, the Greek Theater built by Agrippa, the Fullonica (dry), the Capitolium Hadrianic and built the temple of Augustus and Rome, the remains of Thermopolium. Among the homes in the way of the home of Diana is known Larario the home of home-shop bazaar with the courtyard.
Castrum over the door along the way Horreo Epagathiana where there are several types of buried amphorae and pottery for drinks, the house of Love and Psyche, and many other sites and artefacts. Also inside the archaeological site there is a great museum where you can admire a collection of artefacts found in the archeological as columns, statues and objects of everyday life.
At the end of the visit and can optionally visit the new town of Ostia is 3 km away from the site with a beautiful marina with more than 1,000 recreational boats and a beautiful promenade where you can buy in the shops of local crafts in the harbor of Heads clothing and souvenirs.
Unique and enchanting.
Not included: touristic guide, tickets for Museums, tickets for archeological sites, lunch or dinner.
Price with car up to 4 pax cash payment € 300,00 credit card € 340,00
Price with van up to 8 pax cash payment € 400,00 credit card € 450,00