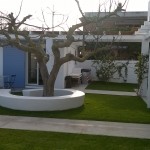 AROUND FICO is a type of sea Residence guest house situated in Location Porpoises, near the sea and a short distance from the airport of Fiumicino Leonardo da Vinci and the Capital.Simple lines, essential but at the same time sought to detail, the Residence is the ideal place to give you a holiday of relaxation and comfort. It has 6 rooms that are arranged around a courtyard where dominates the secular Fico that 'the name of the hotel. Each room is equipped with facilities, equipment and furnishings designed with taste, refinement and originality.
ROOMS
All rooms are designed as solutions comfortable for the reception: have a space used to rest with shelves, chair and walk-in closet, a private bathroom with shower, complete with toilet, bidet and washbasin, and an area outside the exclusive with table and chairs. The rooms are equipped with air conditioning, heating, telephone, TV LCD flat screen TV, minibar and tea and coffee maker. Wall hair dryers and complimentary toiletries for guests. In the delivery room they include towels, bathrobes and slippers chamber. And 'it provided a daily maid service.
OUTDOORS
In warm weather, guests can use the convenient outdoor showers with hot water and access to a large terrace overlooking the sea with comfortable sofas and tables, where they can enjoy hot snacks or entertain for a cocktail at sunset. There is also, on request, a further terrace on the second floor is a solarium with lounge chairs available for guests.
NEARBY:
The hotel is on the sea, close to oasis of natural interest (Macchiagrande Oasis WWF and pine forest of the Torlonia family), 2 km from Fiumicino Airport and well connected with the capital, which is just 24 km away.
We are really close to the sea … its noise will accompany you throughout the day and be able to cuddle at night before bed. You will hear, see and smell her perfume from one of our spacious and comfortable terraces.
The city seems so far away and yet so close …. Rome is really one step!
The international airport of Fiumicino-Leonardo da Vinci is practically on top of you but in this space reserved so the noise of the plane that passes will be just a memory of your trip.
Website: www.intornoalfico.com
E-mail: info@intornoalfico.com
Contacts and reservations: 339.6888806 06.65083052_
Location: Via delle Carenarie 81 / D_ 00054 Fiumicino_Loc.Focene (RM)